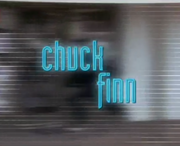 A contemporary children's comedy-adventure set in a small Aussie town against the background of the mighty Murray River. The series follows a group of kids who attempt to resurrect a once-derelict paddle steamer named the Tingalla Rose, not only to get it back on the river but to run it as the successful working vessel it was at the turn of the last century. There are many hindrances to this dream, not least being that the vessel is haunted by the amiable but unpredictable ghosts of two former passengers.
At the heart of these comic adventures is Charles 'Chuck' Finn — he's a hip, wisecracking Canadian boy whose only wish is to move back to Toronto. With his introduction to the de-commissioned Tingalla Rose and a gang of misfits who become his mates, Chuck eventually finds the new home and companions he longs for beneath his cocky and often abrasive front. Each episode follows the gang who always seem caught up in an unexpected adventure, whether it's hiding a planted plague of rodents from the River Inspector, getting lost in the ether between the 'living world' and the 'other side' or foiling the plans of a sworn enemy, town bully Tiny Maloney.
The series first aired from 1999-2000 on Australia's ABC channel. It returned to air for reruns in 2010 on ABC3.
hunger games
Related Pages
Edit